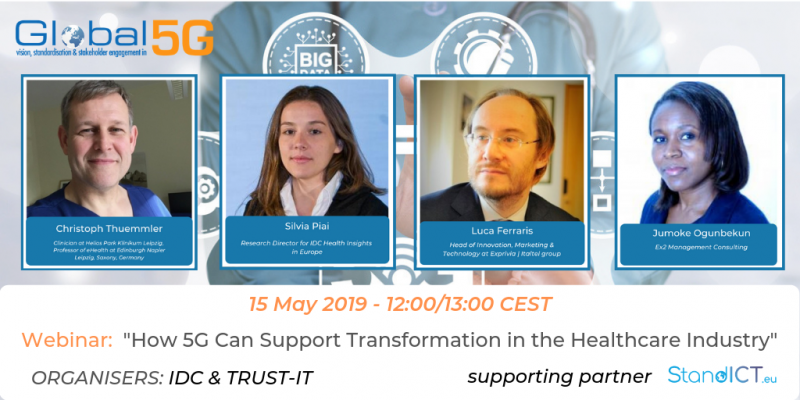 5G for Healthcare Webinar on 15 May 2019
Registration is now open for the Webinar: How 5G Can Support Transformation in the Healthcare Industry on 15 May 2019, 12:00-13:00 CEST
The digital revolution already apparent in other industries has yet to become mainstream in the health sector, with disruptions coming from improved patient engagement, connected care, unobtrusive monitoring, assisted living for people with chronic conditions, independent and active ageing, and robotic/remote surgery. The health care industry is the biggest and fastest growing industry in the world. In the European Union, the cost of providing health care is projected to rise by 15% by 2060, accounting for 8.5% of the GDP, when 1 in 8 people in Europe will be 80+ years old.
REGISTER FOR FREE HERE
Connected health, with a variety of use cases opens a whole new landscape of business opportunities for industry, new jobs and prosperity. The potential improvement enabled by 5G for patients, doctors, caregivers, and society is huge.
To understand the opportunities and the challenges of 5G, IDC in collaboration with Trust-IT presents the webinar How 5G Can Support Transformation in the Healthcare sector on 15 May 2019.
The webinar is an opportunity to hear from experts on the needs and benefits expected by healthcare industry stakeholders, as the sector drives transformation. In particular, we will discuss:
How the 5G capabilities and high-density could extend the reach and reliability of remote monitoring and telemedicine new services
How ultra-reliable low-latency 5G services enable remote focused patient-doctor interaction
How 5G data capabilities will provide operational benefits in public healthcare costs.
Hosted in partnership with STANDICT.eu, the webinar will also zoom in on funding opportunities for EU standards specialists driving innovation through standardisation. 
Agenda
12:00-12:05: Welcome & Introduction, Daniela Rao, IDC Italia
12:05-12:15: The Role of Sustaining Healthcare Industry Digital Transformation, Silvia Piai, Health Insights, IDC
12:15-12:25: Christoph Thuemmler, Clinician at Helios Park Klinikum & Professor of eHealth at Edinburgh University Napier
12:25-12:35: Luca Ferraris, Head of Strategy, innovation & Communication, Italtel-Exprivia
12:35-12:45: Panellist to be confirmed
12:45-12:55: Jumoke Ogunbekun, 3GPP Delegate & STANDICT.eu External Advisory Group member
12:55-13:00: Q&A