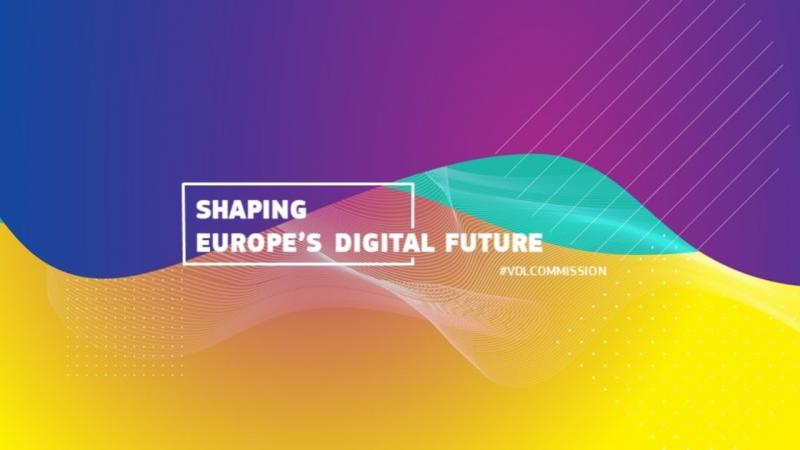 Shaping Europe's Digital Future: the EU role in leading the Digital Transformation
Digital technologies are deeply changing our daily life, our working and business style, and the way people travel, communicate and relate with each other. Digital communication, social media interaction, e-commerce, and digital enterprises are continuously transforming our world.
In her political guidelines, Commission President von der Leyen stressed the need for Europe to lead the transition to a healthy planet and a new digital world. This twin challenge of a green and digital transformation has to go hand-in-hand. It requires, as set out in the European Green Deal, an immediate change of direction towards more sustainable solutions which are resource-efficient, circular and climate-neutral to reap the benefits of an increasingly digitised society. The European approach will be based on three main pillars to ensure that Europe seizes the opportunity and gives its citizens, businesses and governments control over digital transformation.
Technology that works for the people
Europe must invest more in the strategic capacities that allow to develop and use digital solutions at scale and to strive for interoperability in key digital infrastructures, such as extensive 5G (and future 6G) networks and deep technology. A big investment plan has been planned within the EU Multiannual Financial Framework. Nonetheless, a true digital transformation has to start from European citizens and businesses trusting that their applications and products are secure against malicious cyber activity.
To tackle this growing threat, some steps have been taken into account: setting consistent rules for companies and stronger mechanisms for proactive information-sharing; ensuring operational cooperation between Member States, and between the EU and Member States; building synergies between civilian cyber resilience and the law enforcement and defence dimensions of Cybersecurity.
Fair and competitive digital economy
Data has become a key factor of production, and the value it creates has to be shared back with the entire society participating in providing the data. This is why we need to build a genuine European single market for data: a European data space based on European rules and values. With this in mind, it needs to be ensured that EU rules are fit for purpose in the digital economy, all companies compete in Europe on fair terms an increase access to high-quality data while ensuring that personal and sensitive data is safeguarded.
Open, democratic and sustainable society
In recent years, Europe has led the way towards an open, fair, inclusive and people-centric internet with its standard-setting General Data Protection Regulation and its rules for platform-to-business cooperation. In order to protect European democracies and the values underpinning them, the Commission will continue to develop and implement innovative and proportionate rules for a trustworthy digital society. Such a digital society should be fully inclusive, fair and accessible for all. Moreover, the EU's digital strategy will pursue the following prominent goals:
Use technology to help Europe become climate-neutral by 2050
Reduce digital sector's carbon emissions
Create a European health data space to foster targeted research, diagnosis and treatment
Fight disinformation online and foster diverse and reliable media content
In geopolitical terms, the EU should leverage its regulatory power, reinforced industrial and technological capabilities, diplomatic strengths and external financial instruments to advance the European approach and shape global interactions. This includes the work done under association and trade agreements, as well as agreements reached in international bodies such the United Nations, the OECD, ISO and the G20, with the support of EU Member States. In the context of Europe as a Global player, one of the key-actions that is definitely worthy of mention is a tailored Strategy for Standardisation, which will allow for the deployment of interoperable technologies respecting Europe's rules, and promoting Europe's approach and interests on the global arena.