Reflections & Sustainability -StandICT.eu 24 months on
Location: Brussels, EC DG Connect, Premises BU 25 Avenue de Beaulieu Belgium
Thursday 5th December 2019
Couldn't make our final event? No worries click here to view our photo gallery!
Download the "Final Impact Report: Europe's Contributions To ICT Standardisation Globally - Impacts From StandlCT.Eu Funding"
Purpose & Scope
Digital Technologies & Interoperability and Standardization work hand in hand in laying the foundation for a truly Digital Single Market. We also know that ICT Standardisation has dramatically changed over the last decades. Alongside traditional standardization organisations, specialized and mostly global fora and consortia have emerged as world-leading ICT standard development bodies that are developing the vast majority of standards for the internet, the World Wide Web and more recently for Cloud computing, Cybersecurity, Artificial Intelligence (AI), IoT and blockchain. 
This workshop will be a unique opportunity to introduce the results of StandICT.eu, over the 24 months of the lifetime of the project, the best practices, and hearing from successful applicants and how they have made an impact in the ICT standardization efforts they have contributed to. This final StandICT.eu gathering wishes to use this venue as a results-oriented day where SDO technical committees in international SDOs, fora and consortia may attend to also shed light on their achievements and their needs to help support the standards Watch and to pave the way for future focus under Horizon Europe and 2020-2021.
What's more, standards are increasingly seen as a bridge between research, innovation, and the market, and as a means of capturing and disseminating knowledge. The workshop wishes to showcase and demonstrate how standardisation activity supports a global market creating opportunities for European businesses and consumers and it is achieved via the most appropriate routes and organisations.
Who should attend?
ICT SMEs, SME associations and Start-Ups, SDO representatives, those contributing to technical committees & international SODs, industry and their relevant associations, policymakers and funding agencies, national funded Research & Innovation Projects, especially those who have identified standardization outputs looking to assess future priorities and challenges brought by standards and identifying gaps in standardization efforts, Academia, Public administrations, larger organisations.
Main Take-aways for the audience
Learn from those Standardization organisations and technical committees on standards which could be important & relevant for SMEs, academia, start-ups;
See what the successful applicants from StandICT.eu achieved and their contributions to gaps & best practices;
Hear from testimonials who are working on gaps & EU priorities in ICT standardization;
Standards & Education capacity building on the fly;
Gain a whole new understanding of why standards are important and should become your priority & how it can be affordable for the stakeholders present especially SMEs, Start-ups, industry;
Understand how Research & innovation works hand in hand with Standards from the experts;
See how StandICT.eu may become sustainable in the future.
Agenda Structure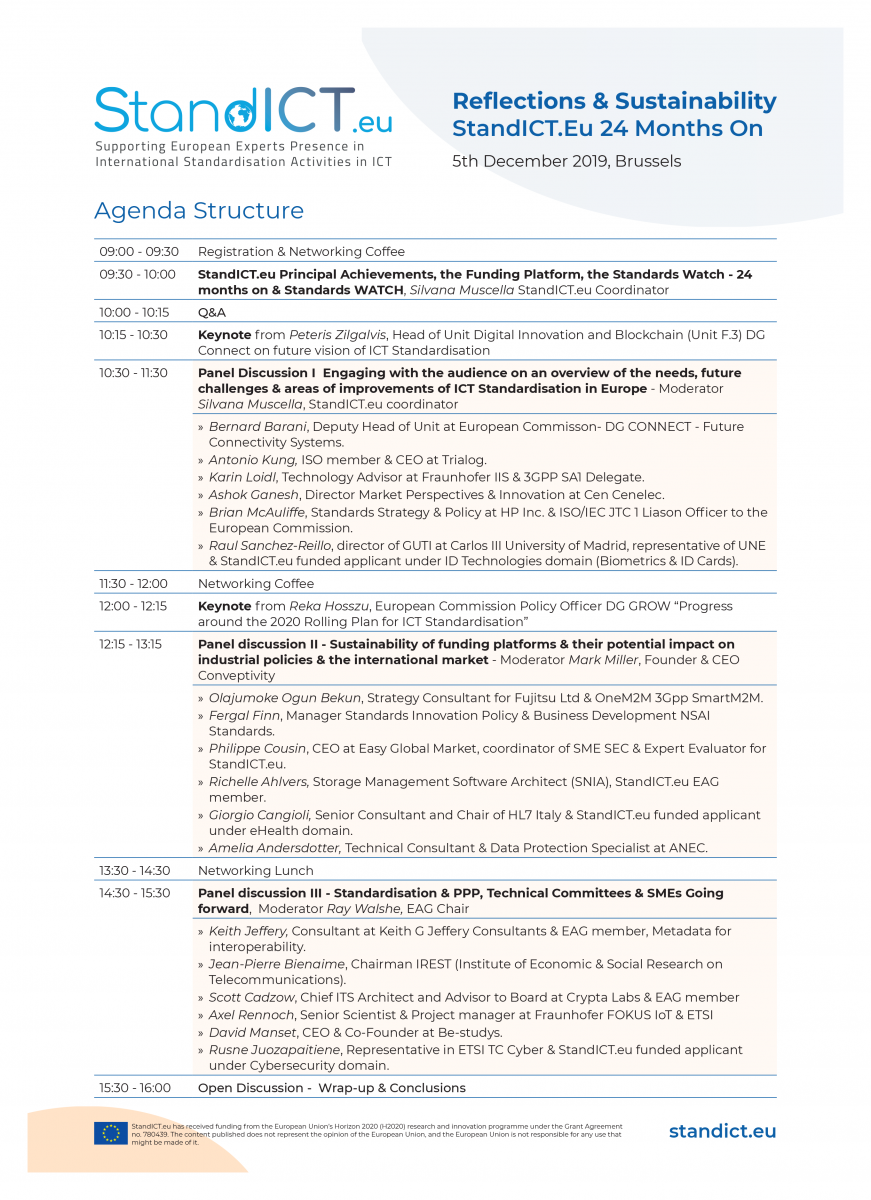 Donwload the agenda HERE.